Parent Information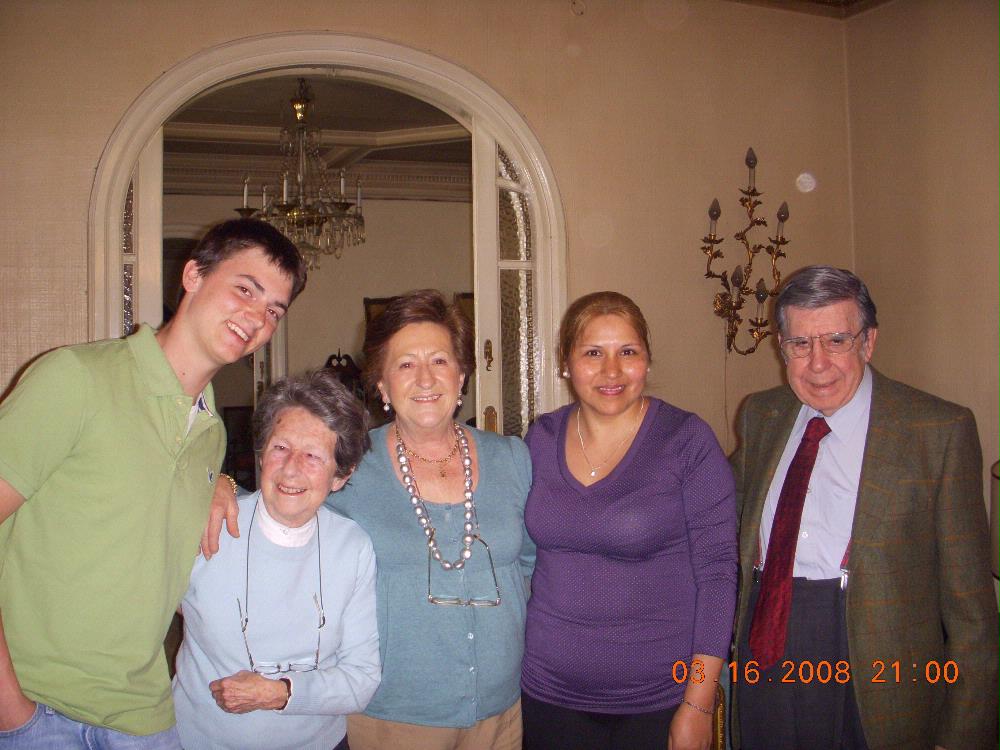 Our son Brian chose to study in Madrid for a semester. He lived with a host family that spoke Spanish and very little English. His Spanish has improved, and this has been a terrific experience that he will never forget. Brian has enjoyed the host family, the school, the culture, everything. He has been able to travel around to different parts of Europe with ICADE. As parents, we couldn't be happier .
Andy & Peggy Balch
Loyola recognizes the important role you've played in your student's decision to embark on an academic cross-cultural journey and we encourage you to continue to support your student as they learn to navigate a new city, culture and way of life. We offer the following suggestions to help you participate in the decision, exploration and experience. And please, if you have any questions or concerns, feel free to contact us.
Before Departure
CIE works with Loyola students to find the right program for them. These are some of the issues we consider, and we encourage you to explore these with your student. We have also included the links to the appropriate pages on our website.
When your student has selected a specific site, be sure you receive, review and understand the following information about your student's program:
Program Structure

- type, location, duration, size, facilities and staffing - review the information on both the Loyola specifc program page and the specific website for the program/university

Academic Credit

- how earned, courses available, how applied to degree at Loyola

Living Arrangements

- homestay, student residence, independent living and other options

Orientation

- pre-departure program on campus and upon arrival in country

Support Services

- academic, social, emotional, health and wellness and special needs

Travel Arrangements

- how to make them and program dates?
While Abroad
Maintain communication with reasonable frequency but not on a daily basis.
Keep the program calendar in mind. If you haven't heard from your student, it may be because they are on a program excursion or traveling during a break.
Encourage your student to refer to the Study Abroad Handbook.
Be aware that your student may experience culture shock.

The inevitability of cross-cultural experiences is that ideas and notions of self and the other get challenged and reshaped by daily interactions, first-hand experiences and lived knowledge. Students often find that their host culture is not how they expected, sometimes for better, other times for worse. This is generally termed culture shock, and as a parent, you'll often be a long-distance sounding board as your student tries to make sense of their new surroundings. Students report experiencing confusion and a range of emotions while abroad, so you may receive an exuberant phone call one day and a very dejected email the next. Transitioning to a new way of life can be difficult and it takes a while to settle in and begin to put things in perspective. It is important for family and friends to recognize the normalcy of this struggle and to remain supportive. After some time, if you truly believe your student is having serious difficulty adapting to their new environment, encourage them to consult with a program representative or international office staff member. (Adjusting to a new culture)

Monitor online information and advisories from the State Department's Bureau of Consular Affairs.
Incidents and Emergencies Abroad

Should your student experience an unpleasant incident (displeasure with housing situation, theft, trouble with classes) while abroad their instinct will most likely lead them to call you no matter what time of day it is or their distance from home. If such an event occurs, please encourage your student to call the local program contact regarding their concerns. Most problems can be easily and quickly resolved when handled locally. Please remind your student to remain calm and to feel free to discuss the situation with their program contact as that is what they are there for.
Should your student experience an emergency abroad (bodily injury, victim of crime), please encourage them to contact the local authorities immediately. This call should be followed-up by a call to their local program contact. Their program contact will be able to assist them in seeking out any additional help or support the student may need in regard to their emergency situation.
When They Return
Continue your enthusiasm for your student's experience in the months after they return home. Show interest in the photos, stories and memories to help keep the experience alive. Be aware that your student may experience reverse culture shock.
Coming home can be just as difficult as adjusting to life overseas. This is particularly true for students who spend a semester or year abroad. It will take a bit of time to re-adjust. Your student will have grown personally and will not be the same child you said goodbye to at the airport. Your student may feel frustrated because they have experienced so much, but everything at home still feels exactly the same. Expect them to experience some level of personal confusion and a wide range of emotions, including irritation and anger. Be patient and allow your student time to share stories and memories from their time abroad. With time, often several months, they will eventually fall back into step with life in the US.
Forward any program-related materials, such as transcripts, to your student for processing on campus.

Updated 7/22