Pontificia Universidad Católica del Ecuador (PUCE)
Quito, Ecuador
Program Highlights
Spanish Language classes plus academic classes for those with sufficient command of Spanish

On-site Coordinator

Latin American Studies/Common curriculum course on Ecuador in English with a Service Learning

Component

Exciting field trips to the Amazon and the Galapagos depending on the semester.

Homestays
The University and Program
Pontificia Universidad Católica del Ecuador (PUCE), a Jesuit University, is located in the Ecuadorian capital of Quito. PUCE, founded in the mid-twentieth century by the Society of Jesus, is the oldest and one of the most prestigious private educational institutions in Ecuador and is home to 14,000 students.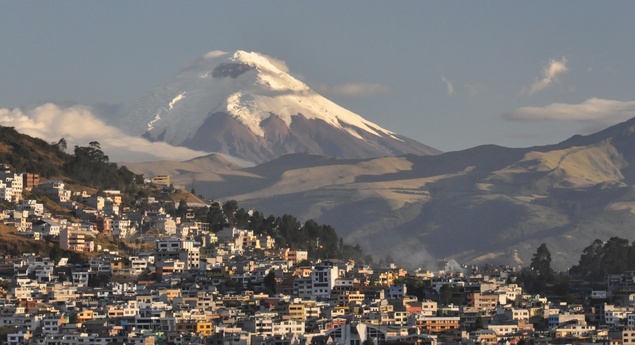 The Loyola program at PUCE will provide students with an exciting program of Spanish language courses, a course on Ecuadorian reality with a service learning component, the opportunity to take academic courses in Spanish, and field trips to various locations including the Amazon and the Galapagos. The on-site coordinator, Dr. Ximena Sosa, will teach the common curriculum course on Ecuador, assist students in their adjustment and coordinate the field trips. Students will be placed with host families by the Dirección de Relaciones Internacionales at PUCE. In addition to studying Spanish language and the course on Ecuador, Loyola students with sufficent language skills can study a myriad of subjects, including archaeology, communication, economics, psychology, geographic sciences, history, international relations, literature, natural sciences, political science, sociology, sustainable development, linguistics and many more! PUCE's anthropology, biology, Latin American, and environmental studies are particularly exceptional fields of interest.
Location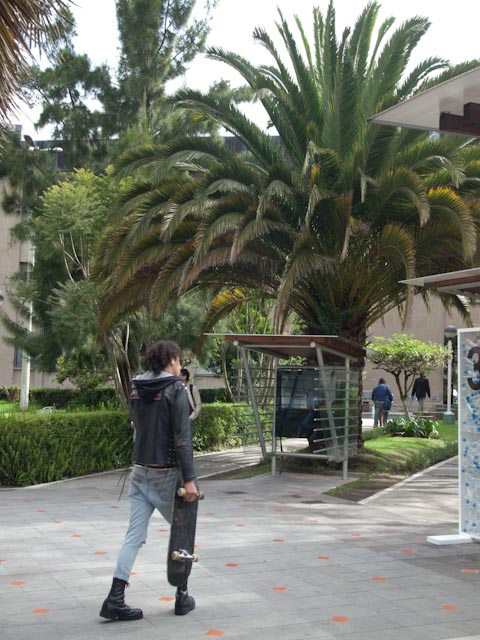 The city of Quito, founded in 1534 at an altitude of 9,350 feet, is a major metropolitan area with a population of almost 2 million. The Historic Center of Quito has one of the largest, least-altered and best-preserved historic centers in the Americas and was one of the first World Cultural Heritage Sites declared by UNESCO in 1978.

Quito is located in Ecuador's Guayllabamba river basin, which makes up part of the country's highlands region. The city is surrounded by many volcanoes, with Pichincha being the closest one. The average temperature hovers around 60 degrees Fahrenheit, and it is divided into two seasons: dry and wet.
Academics
Spanish Language Classes
PUCE's Spanish as a Second Language program has 6 levels and meets 15 hours per week. Students will receive 12 hours of credit for the Spanish language program. All the courses incorporate cultural immersion with classroom activity. Each level is 8 weeks long and students should be able to complete 2 levels in a semester, the equivalent of 4 semesters of Spanish at Loyola.
Besides linguistic competencies, students will discuss topics of Ecuadorian everyday life.
In the first levels, the student learns how to communicate in the local environment, with basic vocabulary and syntactical structures.

In the intermediate levels, the student deepens his/her grammatical knowledge, text reading and comprehension, writing skills, and at the same time, becomes more fluent and secure in the usage of the Spanish language.

In the advanced levels, the student explores Latin American and Ecuadorian Literature and culture, writes essays, participates in debates, makes oral presentations, and expands his/her knowledge of vocabulary in academic fields.

Loyola students will study with students from all over the world which allows for a wonderful opportunity to learn about Ecuador and explore the rest of the world at the same time. Students beginning the program at the 5th level will be able to take other academic courses at PUCE.
Introduction to Ecuador course
The Introduction to Ecuador course will count as an advanced common curriculum course introducing students to the history, culture and society of Ecuador. There will be a service learning component and field trips associated with this course. More details will be available in September.
Academic Courses

in Spanish
When looking for specific courses in Spanish, please, click on 'pre-grado' for a list of undergraduate courses.
College of Business – courses found in the Faculties of Administration and Economics

College of Humanities and Natural Sciences – courses found in the Faculties of Exact and Natural Sciences, Human Sciences, Philosophy and Theology, Communication, Linguistics and Literature, and Psychology
Psychology (Programs in Clinical, Educational and Organizational Psychology)

Religious Studies

Philosophy

Linguistics/Translation

History

Geography/Environmental Studies

Chemistry

Biology

Anthropology/Archaeology
College of Music and Fine Arts – courses found in the Faculties of Architecture and Human Sciences
Visual Arts

Graphic Design and Visual Communication

History of Art
College of Social Sciences – Courses found in the Faculties of Communication, Linguistics and Literature and Human Sciences.
Communications

Sociology with specializations in Politics, Development, and International Relations

Anthropology/Archaeology

Resident Director
Dr. Ximena Sosa is the Resident Director for the Loyola in Ecuador Program. Dr. Sosa is an adjunct professor of history at PUCE. She has her Masters and Ph.D. degrees from the University of New Mexico and has written numerous books and articles on Ecuador and Latin America. Dr. Sosa will teach the Introduction to Ecuador course, develop activities and help students adjust to Ecuador.
Academic Calendar
Ecuador follows the same academic calendar as the U.S.
Housing
Students will be placed in homestays no more than 20 minutes from campus. Cell phones will be provided (though students must purchase their own minutes), wireless access will be available on campus if not in the homes, and the rooms are furnished.
Orientation
Students have a 2-day orientation onsite. Representatives from the U.S. Embassy will speak to the students about health and safety issues. The course on Ecuador will also function as an ongoing introduction to Ecuador. The PUCE exchange program also features a buddy system between a local student and an exchange student.

To Apply
For more information and to begin the application process for the semester or yearlong exchange program, please make an appointment with a study abroad advisor in the Center for International Education.
Links to learn more
PUCE Website
Website for the Dirección de Relaciones Internacionales at PUCE
Health Issues and Information
Ecuador Country Information