Sophia University
Summer Session of Asian Studies
Tokyo, Japan
Since its foundation in 1961, Sophia University's Summer Session of Asian Studies has provided the opportunity for both students and teachers to study and reflect on the relation of Japan, Asia, and the world. Located in one of the many "hearts" of Tokyo, the Summer Session allows participants not only the chance to experience aspects of Japanese culture and society themselves but also to witness the myriad ways in which the cultures of the world are both present and reflected in the maze-like urban landscape of Tokyo.
The Program
There is a wide range of courses from which to choose, including Japanese Language, Politics, Sociology, Business, Economics, Literature, Religion, Art and Theater. Equally as important are the ways the courses are linked with what it is possible to see and do in Tokyo itself. Among the special tours planned are visits to Meiji Shrine and the Edo-Tokyo Museum. It is also possible to experience first hand a range of traditional Japanese arts: Noh, Kabuki, the tea ceremony, flower arrangement, and a variety of Japanese arts on display at Tokyo museums.
The Summer Session also enables participants to experience a number of different perspectives on Japan. The faculty themselves represent diverse cultural backgrounds, and students from roughly a dozen different countries participate in the Summer Session each year. A large number of Japanese students, both from abroad and from Sophia's Faculties of Liberal Arts and others, also attend the classes.
Class discussions and interaction among students thus also provide occasions for reflecting on how our various cultural backgrounds shape our understanding of Japan and the world at large.
The Summer Session also welcomes the participation of secondary and college instructors interested in professional and curriculum development. Over the years, hundreds of high school and college teachers have made use of the Summer Session to develop the expertise to introduce the study of Japan and Asia into the curriculum at their home institutions. Because of recent reforms by the Ministry of Education, it is also now possible to admit and grant credit to high school students with advanced placement credits.
The Location
Taking full-advantage of its city campus location, Sophia University combines classroom instruction with opportunities to explore and engage the city. The university is located on the doorsteps of one of the world's largest and most exciting urban centers! Nearby access to a half-dozen rail and subway lines ensures that all cultural, volunteer, and internship activities are all easily accessible from the campus.

With a population of over 12 million people Tokyo provides an exciting experience for students! Tokyo holds both a historical significance and present global relevance that makes for a unique and fulfilling study abroad location. Students on this program will have the opportunity to study at Sophia University while taking in all of the museums, art galleries, historical sites and urban landmarks that help make Tokyo a world-class city.
Courses
Students choose two courses for a total of six credits. Classes are held Monday through Friday and occasional Saturdays late July through August. Courses are held from 8:30 a.m. - 10:40 a.m. and from 10:50 a.m. - 1:00 p.m. Courses offered include:
8:30 a.m. - 10:40 a.m.: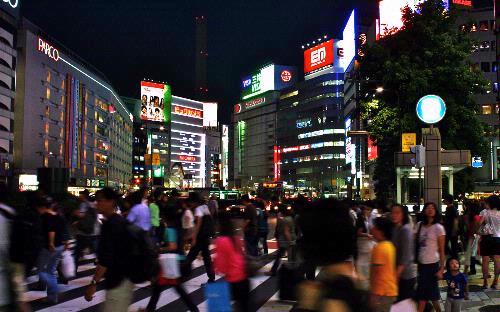 Japanese 1
Japanese 2
Japanese Business and Management
Japanese Theater
Development Issues: Asia and the World
Survey of Japanese Religions
Contemporary Japanese Society
Japanese Popular Culture
10:50 a.m. - 1:00 p.m.:
Japanese 1
Japanese 2
Japanese Art
Japanese History: Edo and Tokyo
Japanese Literature and the City
Contemporary Japanese Economy
Contemporary Japanese Politics
Foundations of East Asian Culture
Course descriptions are available here.
Special activities, such as tours, Japanese drumming performances, tea ceremonies, flower arrangements, lectures and films, are held in the afternoons.

Itinerary
Late July to Mid August
Housing
Summer students at Sophia University can live in a dormitory off-campus or in one of the hotels with which Sophia has an agreement. Housing reservations can be made through Sophia University. For more information, visit the Sophia University summer session housing page.
Meals
Meals are not included in the program price. There is a cafeteria on the Yotsuya campus serving lunch. There are also restaurants (Japanese, Chinese, French, Italian, etc.) of all prices ranges near campus. Average cost of breakfast 800 yen, lunch 1,000 yen, dinner 1,000 - 2,000 yen.
Program Costs
Tuition for two courses is 175,000 yen (approximately $1,600 U.S.). This price does not include additional expenses such as airfare, health insurance, accommodations, meals, transportation within Japan, the Sophia application deposit (20,000 yen) or the Loyola study abroad fee ($300 U.S.).
How to Apply
To begin an application for the Sophia University summer session, please make an appointment with your Study Abroad Advisor.

Links to Learn More

The Sophia University Summer Session for Asian Studies webpage.