University Highlights Virtual Tour of Radboud and city of Nijmegen
Make international friends at a large university (17,000 students) with 200 courses offered in English

Easily explore Europe, bike to the German border, hop on a 1 hour shuttle to Dusseldorf Airport.
University and Location
Radboud University is a leading Dutch academic institution located in Nijmegen, a small historic city in the Southeastern part of the Netherlands near the German border. With a strong emphasis on internationalization, Radboud offers a large selection of courses in English that correspond with Loyola degree plans.
Academics
Courses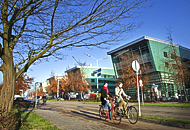 Over two-hundred courses taught in English on the following subjects:
English

American Literature

Philosophy

Psychology

History

Business

Languages and Cultures

and many other disciplines
Loyola students can choose from most disciplines, but must enroll in at least two courses from the Faculty of the Arts.
For more information on the academic programs available, please, visit the website Course Catalog (ECTS Guide)
NOTE: Radboud may categorize courses differently than Loyola does. For example, a course on Dutch History is taught at Radboud's School of Management.
Credits and Grading
Students must take between 24 and 30 ECTS credits (12-15 credits at Loyola). The average course load is 4-6 courses per semester.
The following grade conversion chart is approximate
| | | |
| --- | --- | --- |
| Dutch Grade | | Loyola Grade |
| 8.5 - 10 | | A+ |
| 7.5 - 8.4 | | A |
| 7 - 7.4 | | B+ |
| 6.5 – 6.9 | | B |
| 6 – 6.4 | | C |
| 5.5 – 5.9 | | D |
| 0 – 5.4 | | F |




Academic Calendar
Fall semester: September through January. Arrangements for early examination are offered to Loyola University students attending Nijmegen in the fall.
Spring semester: early February through early July.
Student Life
Orientation
Before the beginning of each semester there is an orientation week for new exchange students which includes campus and city tours and other social events. All selected students are required to attend. Please review Radboud's International Office for the details.
Housing and Meals
Loyola students live with local students as well as other international students. The university will help students locate housing, but students must apply by the specified dates.
For more information, please go to the Radboud web page on student housing.
Services and Facilities
For detailed information on Radboud services and facilities including opening hours, directions and services offered can be consulted here.
Social Media
Learn more about the Radboud International Students organization which plans excursions and activities:
http://www.ru.nl/io/english/social_activities/social-activities/
.
Join the Radboud International Students
Facebook community
.
Visa Regulations
Radboud's Visa Page
Study in Holland Overview of Dutch Visa
ISEP Overview of Dutch Visa
Useful Websites
Information Guide for Radboud and Living in the Netherlands
ISEP Netherlands Country Handbook
Nijmegen Online
Nijmegen Tourism Website
US State Department: Netherlands Travel Guide
Last updated 11/20/15