Radboud University
Nijmegen, The Netherlands
University Highlights
Live and learn in one of the oldest and greenest cities in the Netherlands

Over 250 courses are offered in English

Earn a certificate in a semester or year

Study at the "Best General University in the Netherlands" (awarded by Keuzegids Universiteiten, 2013)
The University and Program
With an enrollment of over 17,000 students Radboud University is a leading academic institution within the Netherlands. This program allows students to enroll in a host of courses that correlate well with their coursework at Loyola. With a strong emphasis on internationalization, Radboud University welcomes Loyola students in the spring as well as the fall semesters.

The Location

Radboud University of Nijmegen is located in the Southeastern part of the Netherlands. Nijmegen is the oldest town in the Netherlands with a rich history including its position as a front-line city during WWII. Today students at Radboud enjoy the vibrant university and the many cultural highlights, monuments, shops, cafes and restaurants, and popular festivals that the city has to offer. Nijmegen is located very close to the German border, and travel to other countries in Europe is quite convenient.

The Academics
Over two-hundred university courses are offered in English including classes in:
English

American Literature

Philosophy

Psychology

History

Business

Languages and Cultures

and many other disciplines
For more information on the academic programs available, please, visit the following website.

Loyola students can choose from most disciplines, but must enroll in at least two courses from the Faculty of the Arts.

Academic Credit and Grading

To be considered full-time, students must take between 24 and 30 ECTS credits, which typically transfer to Loyola as 12-15 credits. Students looking at the courses should consider all the areas as courses may not be in the same colleges as at Loyola. For example, a course on Dutch History, Politics and Culture is taught at Radboud's School of Management.

USA-RU Grade Conversion Scheme *)

The following grade conversion scheme can only be approximate in nature, as grading systems very often vary between different departments in one and the same academic institution.
| | | |
| --- | --- | --- |
| Letter Symbol | Dutch Grade | Information |
| A++ | 10 | No equivalent |
| A++ | 9.5 | No equivalent |
| A+ | 9 | |
| A+ | 8.5 | |
| A/A- | 8.0 | |
| A/A- | 7.5 | |
| A-/B+ | 7.0 | |
| B+/B | 6.5 | |
| B/B-/C | 6.5 | |
| D | 6.0 | |
| F | Onvoldoende | |






















* Based on the Nuffic table (www.nuffic.nl)


The Academic Calendar
Loyola students can attend Nijmegen University in either the fall or spring semester. Arrangements for early examination are offered to Loyola university students attending Nijmegen in the fall. Students attending Radboud in the spring take their examinations with the class. The fall Semester runs from September through January. The spring semester runs from early February through early July.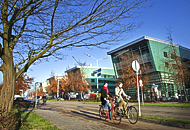 Housing and Meals
Loyola students on this program will live with local students as well as other international students. The university will help students locate housing, but students must apply by the specified dates. For more information, please, go to the Radboud web page on student housing.
Guide to Living in the Netherlands
Practical Information


Approximate Living Costs

Experience shows that to live and study in the Netherlands for one year costs a regular student between €700 and €1000 a month. This is needed to cover daily expenses, to pay the rent (around € 400), and for instruction materials.


The Student Experience

Studying at Radboud University in the Netherlands offers students a unique European study abroad experience. As a top university in the Netherlands, Radboud holds a strong academic focus that includes an emphasis on individual responsibility, independence, and small class sizes in order to provide a high level of academic learning and instruction. For more information on Radboud, living in the Netherlands, and further pratical information, please, refer to the Information Guide.
Orientation

At the beginning of each semester there is an Orientation especially for new international exchange students which is organised by the International Office in cooperation with Radboud International Students (RIS), consisting of 2 student coordinators and student mentors. Depending on the semester, this Orientation includes entertaining activities such as: tours of the university and the city, sporting events, parties, etc. By participating in this program you will quickly get to know both Nijmegen and Radboud University, and you will also make new friends among the other international students.

If your study period at Radboud University starts in September, there will be an Orientation in the third week af August which lasts a couple of days and ends in a fun weekend. If your study period at Radboud University starts in February, there will be an Orientation at the end of January. For the preliminary program of the Orientation of January 2014, please click here. To get a first impression already, you can check out the review of the Orientation of January 2013.

If you want to be kept updated on new activities and get in contact with other students, please, join the Radboud International Students Facebook community.



Student Services and Facilities
Radboud University offers a wide range of facilities. All the university's facilities are concentrated together on the one square kilometer of the former Heyendael estate: the lecture rooms and research labs, the University Hospital, the libraries, offices, the accommodation for student organizations, the sports center, the guesthouse and book shop. All facilities are located directly on Radboud's campus. Foreign students are entitled to make use of the same facilities on campus as Dutch students and staff.

Further detailed information on services and facilities including opening hours, directions and services offered can be consulted here.
Social activities

During the year, various social activities are organised for international students in order to get to know the Netherlands, Nijmegen and other international students. Parties are organised and also debates and lectures are announced frequently. The International Office together with Radboud International Students also offers excursions to e.g. The Hague, Madurodam and Scheveningen or The Keukenhof throughout the year (the summer months excluded).

Student Organizations
Radboud University hosts several student organizations including the following internationally focused student groups:
ISN International Student Network

AEGEE-Nijmegen

AIESEC

United Netherlands
For more information, please, consult the Radboud University website.


Visa Regulations

Detailed information with regard to the specific Visa requirements for studying in the Netherlands can be found on Radboud's webpages for exchange students as well as on the website Study in Holland or on the ISEP website:
http://www.ru.nl/students/exchange_student/visa_and_residence/visa/
http://www.studyinholland.nl/practical-matters/visas-and-permits
http://www.isep.org/students/Placed/handbook_visa.asp?country=50


Useful Websites

http://www.isep.org/students/Placed/handbook_index.asp?country=50
http://www.nijmegenonline.nl/zp-nijmegen/nijmegen-information-english.htm
http://english.nijmegen.nl/
http://travel.state.gov/content/passports/english/country/netherlands.html

Virtual Tour of Radboud University and Nijmegen
Visit Google Street View to take a virtual tour or Radboud University and the city of Nijmegen.
For a virtual tour of Nijmegen by bicycle, click here.

To Apply
For more information and to begin the application process for the semester or yearlong exchange program, please make an appointment for advising with the Center for International Education.