Universidad Pontificia Comillas (ICADE)
Madrid, Spain
Program Highlights
Live and learn in the cosmopolitan capital of Spain
Study at one of the premiere Jesuit universities in Europe
Comillas ranks 51st on the Times Higher Education Global Alma Mater Index
Take classes in Spanish
The University and Program
Students attending ICADE have the opportunity to study at one of the premiere business programs in Europe while living in one of the most exciting European cities. Times Higher Education listed the Universidad Pontificia Comillas as 51st in its Alma Mater Index: Global Executives 2013 which ranks institutions by the number of degrees awarded to CEOs of Fortune Global 500 companies. Comillas was the only Spanish university in the top 100 of this listing.

ICADE is located in downtown Madrid, and its central location allows students to experience life in the cultural, political, and economic heart of Spain while taking classes at one of Europe's top-rated business programs.
Students applying for this program must have a strong command of the Spanish language and be enrolled in the Joseph A. Butt, S.J. College of Business.
The Location
I
CADE, part of the Universidad Pontificia Comillas, is a Jesuit university located in the heart of Madrid. Set amidst the excitement of Spain's capital city, the ICADE campus is located in the heart of Madrid and provides a gateway to everything Madrid has to offer including art galleries, alfresco dining, and beautiful parks and squares.

Madrid is centrally located within Spain and a highly cosmopolitan city that offers students a unique cultural experience thanks to its European, Mediterranean and North African influences. It is home to an outstanding architectural heritage that ranges from historical monuments, such as the Palacio Real, to avant-garde buildings, e.g. the Cuatro Torres business area and the world's first leaning high-rise towers designed by John Burgee at the Puerta de Europa.
The climate is continental and mainly dry with almost perpetual sunshine. Madrid has a vibrant and legendary night life and it was the epi-center of the Spanish cultural awakening in the 1980s known as La Movida. Bohemian cafes and galleries as well as venues for alternative and expressive art abound in Madrid, particularly in the neighborhoods of Chueca, Malasaña and Lavapiés.

Madrid's bullfighting arena Las Ventas, built in Neo-Mud

é

jar style, is considered to be the birthplace of bullfighting and one of the most important plazas de toros in the world. Madrid is also the center of Spain for classical music and opera, literature and sports, and it has many important church buildings. Madrid's museum district along the Paseo del Prado is known as the Museum Triangle and includes the Museo del Prado, the Thyssen-Bornemisza, and the Reina Sofia, Madrid's modern art museum.
The Academics
The exchange program at ICADE is only open to Loyola students enrolled in the Joseph A. Butt, S.J. College of Business. Most courses at ICADE are taught in Spanish; a limited number of courses in English are available.

Academic programs include business courses and some common curriculum courses such as religious studies, political science, etc. For course information please visit the ICADE website (click on the department name then "Plan de Estudios").
For a list of business courses, please click on the following link for ICADE Business Course Offerings offered in both Spanish and English. Students are expected to choose from courses offered in the Business department. Other courses may be available through special request.


The Academic Calendar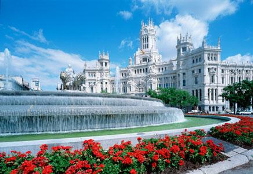 Fall program dates at ICADE typically run September through January. ICADE will organize early exams in December for those students that need to return home in early January.

The spring semester typically runs from February through June. No early exams will be organized early in the second semester. Students must stay in Madrid until the end of the exam period.




Student Experience
With an enrollment of over 12,000 students ICADE offers Loyola students a large university experience without being overwhelming. This immersion program allows students to study at one of the top-rated business programs in Europe while advancing their language skills.
Housing and Meals
Typical of city universities, ICADE does not have its own on-campus accommodation, but the Oficina de Información y Acogida (The Information, Lodging and Welcome Office) at the university can help you in your search.
The three most common options:
Living with a family. Fill out this ICADE Application for Homestays to request lodging with a family in Madrid. Living with a family includes meals and laundry and costs between 630-750 euros per month.
Living in a private hall of residence (student dorm). ICADE does not have its own halls of residence. In order to live in a private hall of residence (student dorm), you must contact them directly. Most residences offer a meal plan. These residences usually cost between 600-900 euros per month.
Living in a flat or apartment. Students may arrive a week or two before classes begin and live in a "Hostal or pension" while you are looking for a flat. Students can reserve a "Hostal" at www.hostelworld.com There are also shared flats; in which, students have their own room, but will share the kitchen and the living room with other people.
Visa Regulations