PACKING AND BAGGAGE
Baggage allowance for overseas flights varies according to airline and destination. Items over the limit may be charged an excess baggage fee, or you may be required to remove items and leave them behind. Check with your airline as allowances do vary. Some airlines are starting to charge for any checked baggage so be sure to be aware of the requirements for your flight.
Mark all luggage inside and out with your name and destination address. Keep a list of what is in each bag and keep that list with you. This will aid in making an insurance claim if your luggage is lost.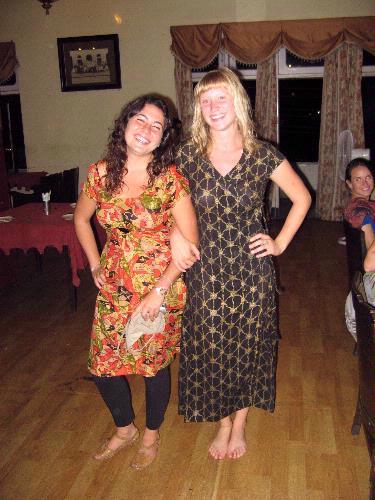 Travel LIGHT!!! You are responible for carrying your own luggage so be sure to take only what you can carry yourself. Throughout your travels you will likely encounter many steps and public transportation systems that will be harder to navigate if you are loaded down with luggage.
You should wear comfortable clothes which are appropriate in your host culture. What may be appropriate clothing in the U.S., may not be in your host country; so dress carefully. The weather may be colder or hotter than in New Orleans, so remember to check the weather before you go. Bear in mind seasonal changes. Think layers!
Remember you will buy things, and your bags will come back heavier. It is a good idea to take clothes that you are willing to leave behind at the end of your study!
Pack light and have good luggage that does not tear.
Eliana McCafferey, France
Suggested Clothing List (varies on your location and length of stay):
Underwear and socks
2 pairs of jeans (not old or worn)
2 pairs of dress pants or skirts
2 nice outfits
5-7 short sleeve shirts
3-5 long sleeve shirts or blouses
2 sweater or sweatshirt (depending on weather)
Winter jacket or raincoat with lining (waterproof!) if needed
Warm gloves, a hat and scarf if needed
2 pairs of comfortable walking shoes
1 pair of dress shoes
Slippers and robes
Sleepwear for warm and cold weather
Bathing suit and flip-flops
Appropriate sportswear or exercise gear
Sunglasses
Remember to pack:
Your CIE handbook
Financial Aid documentation
A neck pouch or waist pouch that will hold currency, a passport and credit cards safely.
Battery operated alarm clock, camera
Photos of home, family, friends etc.
Small gifts to give to your host
Fold up umbrella, rain jacket
A towel for travel
Basic medical kit
It is best to buy small appliances that have dual voltage or run on batteries. You may need to purchase "adapter" plugs to modify the flat prongs (used in the U.S.) to prong shapes used in other countries. These can be purchased at hardware stores or electrical supply stores like Radio Shack. It may be best to purchase small appliances upon arrival.
What to carry with you on the airplane:
Airplane ticket
Passport and visa and other important documents (birth certificate)
International Student Identity Card (ISIC - purchased through STA Travel)
Letter of acceptance/verification of participation in a study abroad program
Health insurance card, claim form, any medical alert information
Destination Information (name of resident director, address, telephone number, housing information)
Money, credit cards and/or travelers checks
Medicine and prescriptions
One change of clothes
Reading material
Make sure you check CURRENT security regulations for carry-ons.
What to leave at home:
Most of your clothes!!!
The voltage in Argentina and most of Europe is 220-250V rather than the 110V common to the U.S. If you try to use an American shaver, iron or hair dryer in one of these countries, the high voltage will overheat and destroy the appliance and could shock you. Verify the type of voltage of the outlets in the country you will be visiting and studying in. Note: It is easier to buy a hair dryer and curling/straightening iron in your host country than to bring yours and have to use a converter or worry about melting your iron.
Bedding
There are light weight towels and hostel stay accessories like sleepsacks and such that don't take up much room. I recommend these for students that are planning on doing any weekend trips while abroad. Rick Steves has a good online store for these types of things https://www.ricksteves.com/shop. From my experience I thought having a Micronet Travel Towel, Cotton Sleep Sack and Neck rest were essential for any sort of train, plane or bus travel.
Courtney Steele, Germany
Revised 8/9/2017